News
Look this search, all about our new Porloq variety
16.04.2015 12:26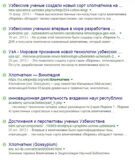 Chock-Full with Cotton
12.04.2015 11:46
It has been quite a while since Uzbekistan got rid of the monopoly of cotton in the agricultural sector. The country has not just retained its leading position in producing and exporting the 'white gold', but turned into a noticeable player in the textile market
Report of Ph.D. Elena Magay
08.04.2015 11:10
In April 8th, 2015 the Council of Young Scientists of the Center for Genomics and Bioinformatics presented a lecture for researchers "How to write a scientific paper?"
Lecturer: Ph.D. Elena Magay
Report of Workers union
07.04.2015 12:46
In 7th April 2015 the Workers union of the Center of Genomics and Bioinformatics presented a report about their activities and achievements for the period 2012-2014.
Congratulations
29.12.2014 11:03
The staff of Centre of genomics and bioinformatics have taken part in Academiad - sports competition between employees of the institutes of the Academy of Sciences ( Mamatkulova Gavkhar and Zhuraev Azamat - chess, Nasyrova Sevara and Yashin Ansori - table tennis) . Congratulations Mamatkulova Gavkhar , took the prize first place in chess competitions.

Cotton Outlook - about new uzbek cotton variety "Porloq"
22.10.2014 13:12
Improving cotton yield - Uzbekistan expands new variety.
New Data Published on RNAi-based Cotton Plant Improvement
03.02.2014 16:12
Researchers from the Academy of Sciences of Uzbekistan (ASU) and Texas A&M University this month reported data showing that RNAi-based silencing of a photoreceptor gene in cotton can significantly enhance a number of traits related to the plant's commercial applications.
Nature communications
24.01.2014 15:17
Phytochrome RNAi enhances major fibre quality and agronomic traits of the cotton Gossypium hirsutum L